Easter is a time to celebrate life and grace.  Growing up southern, finding an Easter dress was an annual pilgrimage – looking for an outfit that reflected the beauty of God's creation while being gracious in style and classic in form.  Southerners have always been risk takers with colors – spring truly blooms in the heart of Carolina (even though it is 28 degrees as I write this in the end of March).
Before I go any further in showing some great styles for the season – there is a difference between being fashion forward and being trashy.  I hate to use the 'T' word, as it not my place to judge anyone's soul by their fashion choices (I thank God I did not get judged on my Yoga pant and UNC hoodie the other night) – some outfits are sloppy, some are a little bold, but when you come to church wearing a mid riff cutoff, or a flowing dress out of Cinderella with a short as Daisy Duke front – it is not appropriate.
Easter fashion should incorporate color and floral prints, but it also should be simple and timeless.
Pants or no pants – I'll admit with my plus size athletic frame I hate to wear dresses – I LOVE dresses, but I feel uncomfortable in them.  I prefer dress slacks and a nice top and blazer combo for church.
So can you wear slacks?  Yes, of course, I recommend pairing them with a bright silk shirt (a la Talbots or J Crew) or sweater set, you can accessorize with a hand bag and cute shoes.  BTW if you are +Size and want to wear a dress – GO FOR IT – just make sure it fits your frame.  In Adele Style+ we'll discuss this further, but each of the dresses I'm showing you are good for regular and plus sizes.
I love this Impressionist Floral Fit & Flare Dress from Talbots – the floral blooms and swell colors make it a must-have dress.  You can pair it with a sweater (button down) – I think a light blue would pair nicely, or you can incorporate yellow or deep pink.  Accessorize with ballet flats or heels (I hate heels – size 11 shoes just don't do heels – but I love the way they look) a solid color bag – perhaps a green clutch would be a nice color tie in with the ensemble
This Sparkle Short-Sleeve Shift from Talbots with Pippa Watercolor Floral Pumps is southern simple for Easter.  It is a great fit for all sizes and can be paired with a floral print bag or leather bag…this dress would look great with a hat – especially an antique/vintage style
Another great style from Talbots.  I recommend a clutch with this dress
Tahari suit from Belk is classic – color can be added with a hat, shoes and hand bag – this suit would look great with pearls and a pin.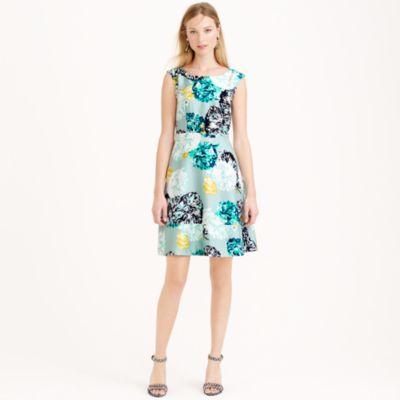 Love this dress from J.Crew (if only they carried + sizes) – it would look great with a silk jacket or cardigan button up – I think a yellow purse would be the perfect match.  You can also accessorize with vintage jewelry and warm, soft makeup tones
Land's End has a wonderful selection of spring fashions, I adore this dress:
Karen Kane dress (from Belk.com)
You can go dark but try to contrast with magnolia creme or crisp white.  This dress can be brightened up with a shawl, and handbag.
Slacks/Style
There are many ways you can wear slacks to church on Easter…I think a silk/dress slack with color is night if you built it as a suit.  Talbots, Ann Taylor and Banana Republic have great options for this look.  I'll admit I usually stick with a black dress slack paired with a vibrant top and dress jacket, my dress shoes and a colored handbag.
These slacks are dressy with a touch of sheen.  This light pink can be paired with a silk shirt or bright floral print with a light grey suit jacket.
You can never go wrong with a great pair of black or navy slacks with a blazer and brightly colored suit, with heels and a handbag…Karen Kane, Calvin Klein, Talbots and Ann Taylor are the brands I recommend for the standard suit look on Easter.
Lilly Pulitzer dresses are great for teenagers and kids on Easter.
Lilac, rose, sun yellow, pale blue, deep blue, orange cream are just a small sample of vibrant colors to spread a little spring into your wardrobe.
Q: Linen or no linen?
I like linen but in dresses and shirts it might be too relaxed for Easter – the linen should be a formal linen more than a beach relax fit.
Q: Should I wear a hat?
Absolutely – hats are part of the Easter tradition – the hard part is finding the right hat.  Many stores don't even carry hats now.  Belk, Macy's, Dillard's and Nordstrom have some…I recommend searching out thrift shops, calling boutiques and going online…here is one website with super stylish hats.
Hope these ideas get your creative fashion minds thinking – as you pull together a sunny bright Easter outfit.