Easter Sunday is a time of joyful celebration, praise, thanksgiving, love and family.  Easter Sunday is the song of spring's radiant entry, an in the south it has always set the standard for putting on your Sunday best. It is the day you shine in color, praising life's treasures and humble gifts.  I once asked my Grandmother Ruby why we dress up on Easter when Christ's glory is about love, light and humility – not who has the best Fascinator hat. She wisely said, 'Fashion won't get you into heaven, but it is a gift from God…'  Dressing up for church is a sign of respect.  If you are just dressing up to best the Joneses then you missing the point.  Dressing up on Easter is a way of proclaiming joy for the season and the abundance of life.  I make this point because I think if we lose sight of the spiritual side of Easter we all get lost in translation. Don't try to dress to impress for 'best of awards,' dress in something that feels great, is classic and appropriate and speaks to your heart – about the joy of the season.
Working in retail I've helped a lot of customers search for the perfect Easter  In the south we have always been about color during Easter.  Seersucker suits, linens, paired with bright shirts and ties…floral print dresses and hats.  When I moved to Montana – as much as I loved my local parish (it is an AMAZING community) – the frozen frigid snowy temps on Easter usually left the congregation forced to wear Antarctic sub-zero coats.  The style was much more laid back, because lets face it – no matter how joyful your heart it is impractical to wear a shift dress in twenty degree weather.
Being back home for Easter I'm delighted with seeing all the bright bold, subtle hues of color.  It makes my heart dance.  I've got an artist soul and color is a palette of expression. While Easter fashion in many parts of the country tends to stand close to the navy blazer or grey minimal suit – I hope others will be inspired to add a little color into your Easter wardrobe.
A lot of customers, particularly those from other areas of the country, not used to the southern color obsession – find it offensive to wear color to church on Easter.  In the south we wear color to HONOR Christ risen flesh.  Color is a sign of life and joy.  While I don't condone stepping out of bounds and going for an over the top – tacky – you couldn't sell that, but you think your a hot trend look at me-look-adding color to your Easter ensemble is a show of the season's grace out of the darkest days of winter and despair.
Pulling together an Easter outfit is a family affair.  Easter is an important time for photos so many family members want to coordinate their ensembles.  While this is a good strategy – remember that you don't have to worry about different prints being mixed (say tie/dress) as long as you are not completely wearing clash alarm colors.  Your family photo should look professional, but remember the photo should also be natural – reflecting the day's celebration – so plan and coordinate but don't let the stress of finding the perfect wardrobe take away the joy from being in the moment.
Remember you don't have to SPEND a lot to look good, on the other hand you want to invest in quality.  You can find nice suits that mimic a look you love for less money if you go online and shop the department store brand labels.  Also check out consignment shops.  I live on a tiny budget and have been able to build my wardrobe through great sales and being willing to have versatile pieces you can build numerous ensembles.
Dig through your closet and see if you have a suit or dress that will work for Easter.  You don't have to purchase a new outfit – you might have an outfit you wear every year specifically for Easter Sunday.  It is okay to take an old outfit and spruce it up for Easter.  Adding a cardigan to a dress or a new purse or shoes can create a new look with the same staple piece.  A new woven shirt or a tie for men will completely change the look of your blazer and slacks.
You want to purchase a 'special' Easter outfit, but don't feel that you cannot wear the dress again.  Buy something you love and is special because you wore it on Easter – it is practical to purchase a suit or dress you can wear again and again.
CHARITY: The Gift of Giving – when going through your wardrobe deciding what to wear, if you have any old suits, dresses…you no longer plan to wear – give them to the Salvation Army or other charitable organizations – including non-profits that help men and women transition into jobs – I think it is a good rule of thumb that if you are buying a new suit to give one away (unless you have only one or two suits) – just a thought #messycloset/cleancloset
Men's Styles:
*Pointers: Don't be afraid of color, use your intuition and the trifecta principle (three colors that work together cohesively) to pull together an outfit.  I recommend a base layer that is neutral – tan/khaki, Oxford blue, straw khaki, linen white, grey, navy and usually the neutrals to balance out the color.
-Gingham and checks are in big time – brightly colored gingham (wide checks in particular) are in style big – A gingham shirt paired with a pair of khakis and a jacket – is a simple Easter ensemble that is appropriate for the occasion.  Although you can pair a patterned tie with a Gingham, I recommend a solid tie bringing out a trace color in the shirt to bring the outfit together.
Conservative: The conservative style for Easter is a traditional classic look.  I recommend a navy blue pair of silk or light wool dress pants paired with a structured jacket and light colored – neutral button down woven shirt with a standard tie.  This look doesn't have to be boring.  I would recommend building the outfit around the tie – you want that one article to stand out – not stick out.  Find a tie or bow tie with subtle-bold color (pale yellow with silver and hues of blue is a good bet – if you want a design; or you can go with a solid tie) If you are unsure of what to wear to church – this is a great by the book – tried and true classic style.
Classic Minimalist: Think Calvin Klein and J-Crew – In our store we have a wonderful Calvin Klein light grey suit we pair with an apricot colored woven.  This grey suit is great for a minimalist look – that you can brighten up for Easter with a beautiful shirt (even a gingham or vertical lines) Adding light blue, apricot, or wearing a magnolia colored woven with a bright tie – makes this a modern-minimalist outfit without giving up the grandeur of spring color.
I like the Calvin suit (on the left) with a steel blue button down or a crisp white woven, a matching pocket square and tie.The suit on the right is the Milano Fit from Brooks Brothers – this is quintessential classic modern – straddling the fine rules of gray-black and opening up with color.  Adding a neutral gingham with a pocket square (tie or no tie) gives your outfit depth without going overboard.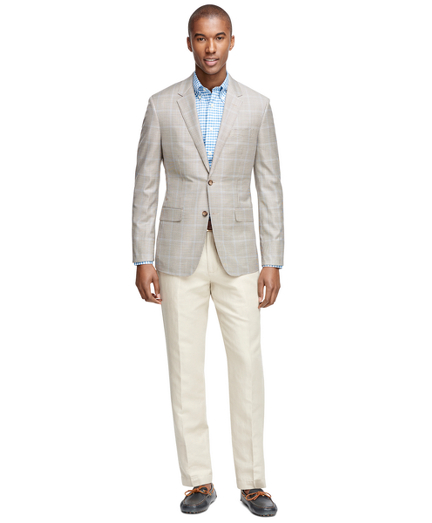 Classic Southern Prep: This style is not exclusive to the south – anyone can own this relaxed sophisticated spring style.
Nothing looks better than a Seersucker or Linen suit on Easter in the south – It is a classic look that is not too bold, but has a light texture and warm neutral colors that speak to the heart of the season.  There are a variety of seersucker and linen options on the market.  The suit below is from Brooks Brothers, but you can find affordable Seersucker options at a variety of stores.  Belk's Saddlebred Brand is one of the off-brands I'd recommend.  I love a bow tie with a seersucker – it adds flair without being zealous and speaks to the tradition of the suit.  The tie on the right is from Vineyard Vines.
In terms of a belt – you can stick with a leather belt or go with a canvas design belt – as long as it keeps in theme with the outfit.  You don't want gin and martini shakers on your belt on Easter, A solid canvas belt in deep navy is always a good pairing.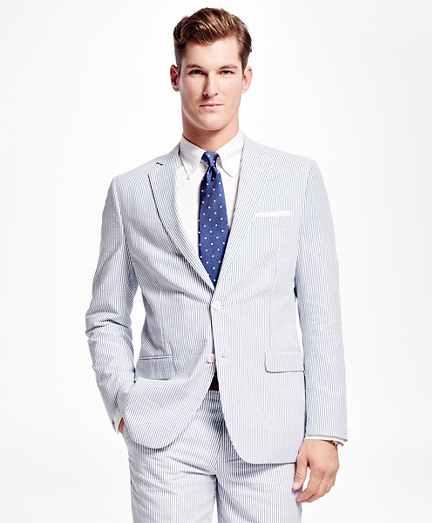 Love linen on Easter – just make sure you get it steamed – linen is supposed to be a little wrinkly so don't panic if it wrinkles – you just want it to look as crisp as possible.  I like the punch the bright paisley tie from Brooks Brothers gives the linen in the photo below.  In addition to Brooks Brothers – Tommy Bahama, Perry Ellis and J. Crew have wonderful linen suits.  Perry is a great price for the quality – embrace linen – it is a classic and relaxed style that is timeless.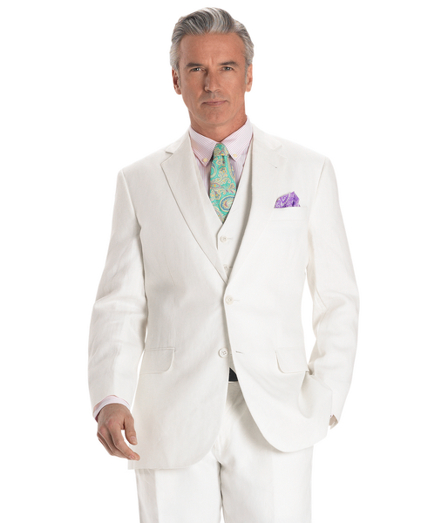 With the Southern Prep look you can go bold with color and make it work as long as you work to keep the piece focus and not jumbled.  Color is great when you build on it and use a pinch of bold and orchestra of subtle undertones.
Here is an example of how you can tone down this great Vineyard Vines pant to make it stand out, not stick out
These pants are an explosion of warm vibrant colors – ideal colors for Easter in the south – if you where a piece this bold you want to tone it tone a bit, I recommend a soft blue linen/wool blend blazer and pale yellow (almost white – barely there yellow – it is also called straw yellow) or a crisp white shirt.  You can where a bow tie (which is more in line with this style)  Saddlebred and several other brands at Belk and Macy's offer this sort of jacket.  Vineyard Vines has a great blue blazer – ideal for a variety of looks (especially paired with white linen or navy linen-silk blend pants, Tommy Bahama online Flying Fishbone are my favorite)
Still unsure of what to wear?
Build a suit: You want your suit to fit – so it is worth going to a men's clothing store and getting measured, if this is not possible go by the size guides online.  Fit is more important than any other factors in picking out a suit.  If it doesn't fit you then you won't look good in it – even if you think a slim cut Italian modern fit is beautiful – if an off brand fits better – be content to admire the fine specimen of clothing just don't invest in it.  I had a customer who fit better in a Chaps blazer than high-end designer – he hated giving up the brand name, but you go with the best fit – quality is part of the fit – so if it doesn't fit you – no matter the quality – it doesn't fit YOU!
When building a suit you need slacks and a sports coat or dress blazer.  I find a dressy sports coat is now becoming the norm.  It never hurts to have a khaki, blue/navy and pale blue, and black suit.  Black is so dark for Easter I recommend sticking with navy or khaki.  You can mix and match the navy with the khaki (Navy blazer, khaki pants) to add subtle depth and contrast to the outfit.
A shirt should be the centerpiece of a suit (with tie playing a very quick second fiddle) because it brings together the theme of the look.  On Easter it is easy to find a bold shirt and tone it down with neutral color slacks and blazer paired with a solid tie. Vineyard Vines – bright colored shirts can be paired on Easter with a navy suit and khaki slacks (linen for dressier a la Tommy Bahama's La Jolla Linen)
A tie can be full of color or muted depending on the shirt.  A patterned tie is not necessarily a no-go if you have a gingham or check, just gauge if it looks to busy – does it send the message you want to convey with your style?  When in doubt – stick with a solid color tie.
Pocket squares are great accessories, but use them for subtle effect – i.e. if you have a flashy tie, flashy pants – you probably can nix the pocket square unless you are using it as a neutral color for contrast.
Ladies stay tuned for PART TWO – where I focus on Adele's Easter Women's Fashion.