Today at work I was tasked with building a merchandise visual display around one shirt – a Tommy Bahama tee shirt called the Porta Beach Blocked Raglan.  At first glance the tee seems like a boring simple shirt, not worthy of being a focal piece but as I held the garment, studying its stitch work, creativity stormed my brain with countless ideas of how to build great outfits around one simple tee-shirt.  I post this as an example, that you don't have to have a flashy expensive piece to get a lot of bang for your buck.
One of the core methodologies of fashion/style at Adele Belle is how to build outfits with character.  Each outfit should have a theme, a purpose for why you are wearing it – even if that purpose is you just want to pull on comfy sweats and read a good book on the couch.  An outfit speaks to your character, an outfit is a chapter in your life – so own it.
Start off simple…this works in women's and men's fashion.
1. Pick a 'character' of clothing – The ARTICLE – shirt, pants, skirt, boots, accessory
2. Build a theme/story around that piece to create an outfit – this is your fashion – tell the story in your words – through your personal style.  For instance, Tommy Bahama is focusing on an upscale beach suave look – 'Off the Keys' if you will – one of the outfit choices was to have a dressy casual – oyster bar on the dock look – that could also work as a perfect shadow breaker for a city style concert goer.  The article may influence the mood of the outfit, but you direct the show!
3. Use colors and cues from the piece – asking how can I make this piece stand out – how can it bring the outfit together?
The article – our leading character: The Ragland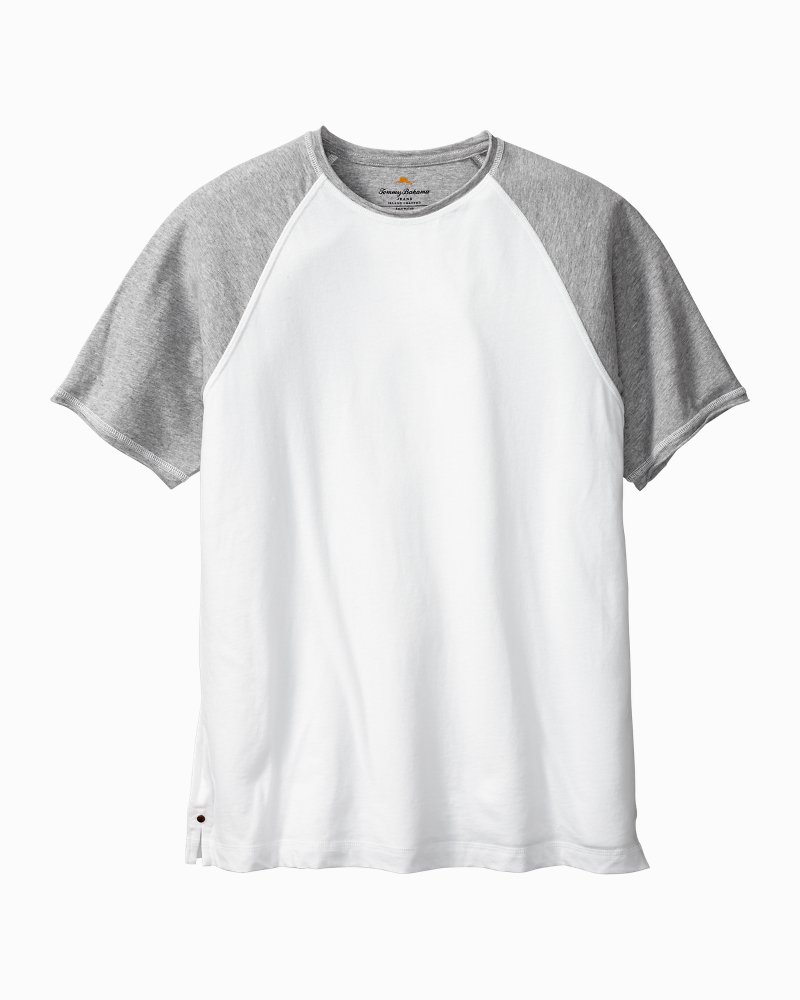 This is a simple baseball Americana meets urban Sunday in the park sort of shirt – I LOVE IT.  While it is simple and lacks the pizzazz some look for in the island style of Tommy Bahama, this is a laid back core fashion article with subtle design work in the stitching that can be pulled into an outfit and 'style' in many different ways.
As I mentioned in my StyleFILE on 'What's Your Style-Men's Edition' – while there are many genres of fashion and core foundations of style – the crossroads of fashion lends itself to the paradox of spontaneity and tradition.  While there are hard and fast fashion rules – like music, books and art work – clothing has dozens of branches that often crossover.  Classic is the core foundation – leading the path to other styles.  Style – is often a combination of looks from varying influences and that is okay – as long as the outfit makes you look and feel your best – it is fine to mix a little street style with Boho-Surfer or Classic with Fast Fashion.  Learn when to break the rules, also be willing to understand that while you can have millions of songs out of a few chords (music) – you still have to follow music theory to create sound.
I'm going to give you an example of several different looks from the Classic to Modern/Minimalist, Street Style, Americana and Surfer with this shirt – see how one article can create a vast element of personal style.
Classic Beach Breezer LOOK
This is a Classic Look inspired by the Tommy Bahama's brand character.  The company was started with the question – what would a man who is a world traveler – who loves the high life, yet has a humble vagabond travel disposition of enjoying delving into adventure – what would this sort of Ian Fleming Jamaica on the run sort of character like to wear.  See even clothing companies can start off with a character and build on that LIFEstyle.
There are two ways to carry this simple shirt in the Classic Beach Breezer LOOK.  You can make it relaxed with DARK DENIM Bonobos Jeans (or similar) with  a sports coat.  I like the tan one paired with the Bonobos Jeans, but you could do a gray blazer style or Tommy Bahama's La Jolla Linen.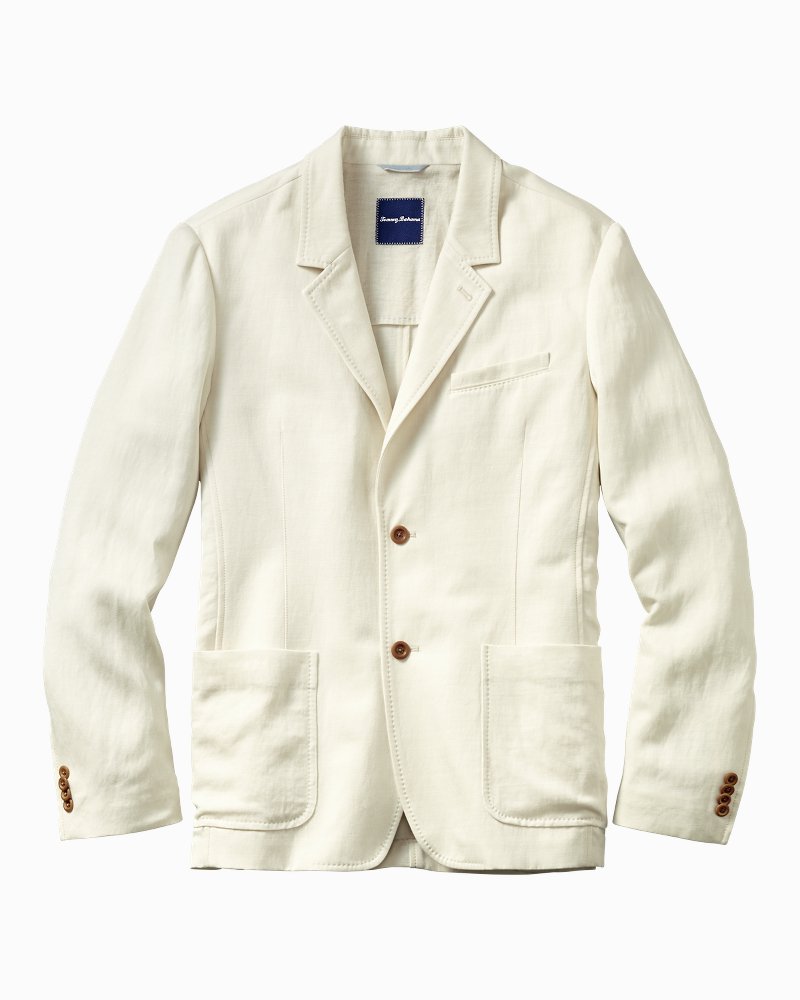 You can shift this around by switching out the jeans for a pair of chinos – I recommend a classic chino (Bonobos) that is relaxed classic, but dressier than a denim or street style chino.  Who knew that you could incorporate a tee shirt, blazer and denim and actually pull off a top marks outfit.
Money Saving Tip: Invest in high quality jeans – think how often you wear, wash, wear jeans.  I love dark denim because it can be dressed up or down.  JACKET WISE while everyone needs a great jacket – you can often find fashion jackets and quality jackets at goodwill and second hand consignment shops.  Also check clearance racks and look to buy off season.
Fashion TIP: I love the 1970s redoux of large stitching on lapels and panels – it makes a jack have a more relaxed look but still look dressy – weekend to work wear is a great investment because you get more bang for your buck!
Minimal & Modern:
Modern is all about clean simple lines, you can use color but it is usually subtle and/or geometric with horizontal lines.  You want the core pieces to make a bold statement by saying LESS is more.  I look to Calvin Klein's sportswear collection as the beacon of the M&M look.  Perry Ellis skirts this territory a bit as well…Michael Kors dress skirts keep in line with this fashion philosophy.  So when you do Modern – remember you can have color – although neutral tones are statements in the M&M movement – designers like CK have lots of color – it is just simple and timeless.
M&M Look #1: Pair the Ragland with a pair of gray slim-fit CK khakis and a lightweight moveable sport coat
or add a light GRAY-blue
I love this FLEECE blazer – it is soft and comfortable, but still looks professional and dressy – great with the Ragland and a pair of grey or black chinos.
You can add a belt – something dark and simple – nothing flashy – remember focus on simply lines to define the story of the modern approach
For more laid-back M&M pair with either of these shorts:
CK great lines, but light blue and grey brighten it up a bit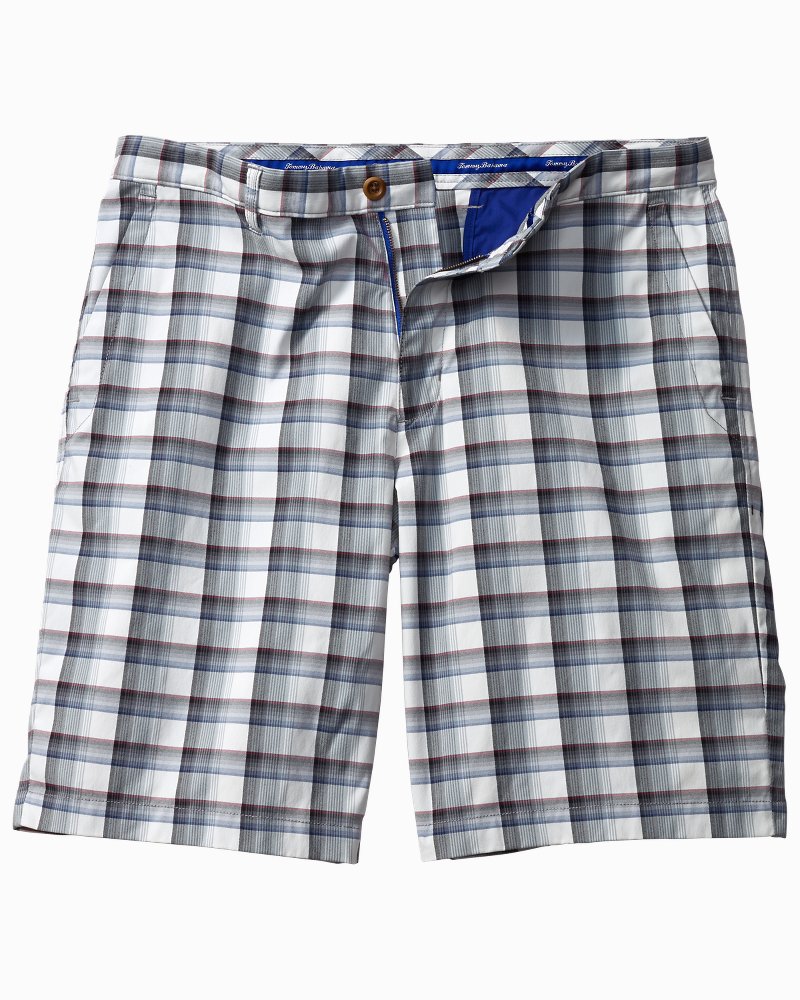 Tommy Bahama Birdie Nights – clean crisp lines, subtle color – M&M summer/spring style!
Street Style
Street Style is the vernacular of fashion and it has 1000 different street corner symphonies – each intermingling and mixing from hip hop to high fashion urban beat to grunge-prep – there are so many rhythms in Street Style.  I think Buffalo is one of the best at defining Modern Street Style – it is classic yet has an urban edge – a little rock, a little roll and a little I'm so fashionably late I DO NOT care.  This is the fashion taking root with a lot of college age-twenty somethings and thirty somethings.  It also has a retiree following – who like the rock star jeans, rich colors and clean lines – layering is the game in Street Style – hoodies, denim (in numerous fades), boots, tees like the Ragland…
I'm going to do a range of 'Street Style' looks for the Ragland.
Eastbank Docks Look
Pair the Ragland with green or gray cargo shorts.  I like the Tommy Bahama East Bank because they are urban, and soft to the touch – comfortable – without sacrificing the urban edge.  Pair with a think canvas or loop belt – lots of options here.  As for layering – I recommend a hoodie from CK or Chip & Pepper.  You could go the extra mile and pair it with a jean jacket.
Izod, Nautica, Polo, CK, Buffalo all have great cargo shorts – I just like the soft touch of this fabric.
Other looks (all found on Belk.com – Buffalo and Calvin Klein)
Pair with a cool jean washed out jacket (or hoodie)
What's your Street Style?  Rep your NEIGHBORHOOD
I also like this shirt with RED deep RED pants
Americana:
Let's do a little Springsteen, because you can't start a fire without a spark and you cannot build an outfit without a great piece. The Ragland is Americana cool at its best, simple and relaxed – ideal for a baseball game or road trip running to Winslow Arizona with Jefferson Browne on the radio. (Yes I'm a music junkie 🙂
Since I'm aiming for summer looks -I'm keeping this light and easy for Americana – yes you can layer this under flannel and a leather jacket – but in NC heat – that gives me a FEVER – so let's keep it light an cool.
Jeans- got to have jeans – LUCKY Jeans or Tommy Bahama Standards are the epitome of Americana.
221 Original
  Something lightweight and simple, wear open to emphasize Ragland
Rock the USA trick – I love the colors of the Southwest and how Texas has great designs for this patchwork plaid button up – look online for specialty clothiers and go through vintage shops and boutiques for another core fashion pieces.  Another great place for Americana West is Pendleton – I'll do a West-Wear/Americana file soon.
BOHO-SURFER
This is the toes in the sand, ready to catch a wave cool dude, paddle board, kayak – you name it – across the tide waver
Pair the Ragland with a pair of board shorts – go bold or go neutral (Columbia, Guy Harvey are two good options we carry in my store – but for the true surfer – get out your local surfing shop or surf the web.
You can wear an easy breezy linen shirt over the Ragland.  Try Ocean & Coast
A more dressy Boho-Surfer look pairs the Ragland with Tommy Bahama Paradise Pro and the Luau Royale
I hope this inspires you to conjure up a plethora of creative fashion ensembles for your spring wardrobe – built around even as something as simple as a tee-shirt…keep coming back to Adele Belle for more STYLE, food, music, art, cleaning and more…
"The reason it is called LIFESTYLE is because your style reflects your life.  What kind of life do you want to LIVE?" – Adele Belle