Spring has officially sprung – no more excuses – leave the drab colors of winter behind and step into vibrant functional coloring that makes a strong statement.  I'm not expecting earth shattering neon, just a dash – a subtle POP of color.
I work in a men's clothing store where I am blessed to merchandise fashion pieces everyday for a number of top designers.  My customers often have two major obstacles in putting together an outfit:
1.  They are color blind – they just don't have the intuitive and practical perception of how colors and prints should be paired together.  Plaids do not go with other plaids – 9 times out of 10 pink and orange clash – although many designers are breaking the color rules and getting away with it – it is better to stick with tried and true color pairings – at least until you feel comfortable taking a risk.  Even then the science of color – while full of a spectrum of possibilities – is pretty standard because some color combos are not visually pleasing.  Colors and prints clash – it gives us a headache and is bad energy.
2. Clients don't know what their personal style is or they are so set in that style they fail to perceive other possibilities.  Yes you may be a golfer who loves golf clothing – but sometimes it is nice to wear jeans and a button down…while most examples of wardrobe identity are easily fixed, we do have identity crises – especially when a person is so caught up in a style identity – for instance grunge with a 1970s twist with stains on your shirt may be your style – but you can elevate that because no one looks good in a BBQ stained shirt.  I'm a big advocate for personal style, but watch an episode of What Not to Wear and you'll realize sometimes we use 'personal style' more as a fort to hide behind – versus actually allowing our true colors to shine through.
The Style File on Adele Belle will focus on strategies for building great outfits by learning how to match colors and layer pieces for a complete look that is not too mish-moshed.  A little bit of color and layering goes a lot way.
I am currently working on a Style File on Colors and how to pair colors.  It may sound like basic 101 – but buy a color wheel or pull up one online – if you have Adobe – you can use the eye dropper tool in Illustrator (also in Gimp).  Each color is part of the color wheel and in that spectrum of vast colors you have really simple fundamental building parts.  Different lines of the spectrum pair well with other colors, while certain parts of the spectrum clash.  A decent website explaining colors is found on this website.  
Color Combo and Jackthreads offer great insight too about pairing colors together.  Remember the color wheel is your friend and if it takes buying a kid's art kit and taking cues from Crayola to have the basic understanding of color in clothing – get the crayons out.
Go to a local paint store and grab paint sample cards – notice the color combinations.  A sky blue might be paired with a darker blue and some light pale yellow…You can model an outfit from building blocks of color.  As you develop a color sense you will make more complex decisions.
Remember my first lesson in color: The Trifecta – start simple with three basic complementary colors and use these colors to build your outfit.  Usually one of the colors is a neutral like a tan khaki.  I consider jeans a neutralizer too because traditional denim pairs with most colors and is one of the most basic building blocks of a wardrobe.
Speaking of building blocks of a wardrobe.  What must have items do you need for Spring?  It depends on your climate and career, but it is good to have 3-4 office outfits and 3-4 casual outfits with pieces you can mix and match.  I also recommend 3-4 outfits/pieces for outdoors and travel – i.e. Columbia apparel, gym outfits…you can have more but these are building blocks.  You need four shoes: at least one dress shoe that is good quality (especially if you are on your feet all day like me), athletic shoes…of course every lifestyle has varying factors but these are general pieces you will need.
The Style File will address the two obstacles in a series of reports in the next month on how to pair color and also determining your personal style.  The internet is brimming with quizzes on your style – but what is style and do you have to fit into a cookie cutter shaped box.
I don't – I definitely have a sense of smile and it adheres to certain style genres, but my fashion sense is usually a crossroads depending on what I'm dressing for – am I hiking in Yellowstone or attending a cocktail party.  You'll find the biggest determinant of what you wear is occasion…each varying circumstance might have its own identity.  Say when I'm hiking I love Columbia PFG gear and Patagonia; if I'm at work I'm dressing up in sophisticated casual with classic prep…when I'm performing at a songwriter's night I probably am Bohemian prep meets Vintage Americana with a tinge of Romantic…while some may want to adhere to strict style personalities – I'm more about staying practical.  Does the outfit serve its purpose while still have oomph?
Going back to the Trifecta let's start with one basic garment and built the outfit around it.  I love the Tommy Bahama Bayfront Plaid shorts.  Tommy Bahama is one of my favorite brands.  It has remained true to its tradition of quality and effortless fashion while also incorporating an Island Modern style that is cross generational.  i find a lot of my younger clients (20 something professionals) are beginning to gravitate to Tommy Bahama as much as retirees.  The reason why is because Tommy is comfortable, quality that can be easily dressed up or down – making it simple to have a few core pieces and build many different outfits and looks.  TB also packs well – making it ideal for beach trips – and will all this spring sunshine I'm ready for a little beach rendezvous.
The Bayfront Plaid shorts are colorful, rich in tone and texture.  They are a linen short, but thick enough that they are more dressy than a wrinkled linen disaster.  This short is a color guide for building an outfit.  It has multi-colored hues of pale yellow, blues, mint green and creams.
These shorts are a great building block because you can dress them up for a nice casual-dressy look (not business or formal, but a look good for a mid-level restaurant) or these shorts can worn as a surfer cool look beach side with sand in your shoes.
You don't need to make a flash with the shirt – the shorts stand out enough – rather pull color from the shorts to make the garments become an outfit.
For a casual look I suggest pairing the shorts with Tommy's Bali Sky tee in Sunfish (there are other great colors too in this super soft pima cotton tee) I selected is pale yellow because it is simple, has a vibrant color that brings out the soft yellow in the sorts.
For another laid back look – The Salerno Polo or Island Lite Polo are great options.  I love polos by the way – so many colors – pair a polo with a pair of khakis and you have affordable simple fashion turning any outfit from drab to wow.  A bright polo with a pair of dull khakis has a simple burst of color that even the most color-phobic dressers can master in style.  You don't have to invest big bucks on polos either – although I like Tommy's Emfielder – you can also look at Nautica, Saddlebred(Belk), IZOD and other non-name brands.  My preference is quality – but having a few good supplemental shirts like Saddlebred that wash well – well for $24 that is worth its weight in gold.
I also like the idea of layering these shorts with a white dressy tee (TB Cohen V-Neck or Bali Sky or Bahama Reef Crew) and wearing the Sea Glass Breezer Linen in bright creme.  I will give you another great example with this shirt in a future Style File.  If you notice the small stitch work – the stitching is dark blue – another color cue encouraging you to pair this with blue hues.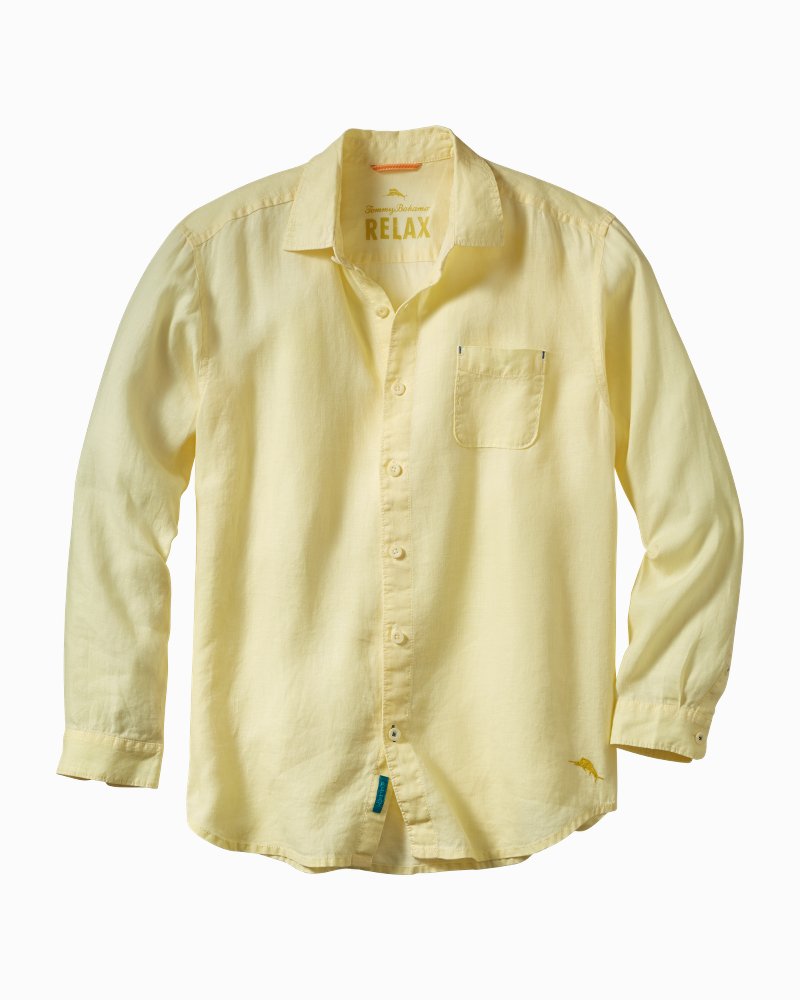 That's a wrap for this addition of The Style File, but we'll continue to talk wardrobe, color, your best look and all the other fashion tips that help you look your best.
What is your STYLE – we'll focus on different style inspirations in fashion's look demos, follow your heart, your focus and what speaks to your style – if you aren't sure or really just have bad fashion sense – be willing to take advice.  I work in fashion but even in the retail craziness I find oftentimes in my own life I neglect to really think about my wardrobe – Your wardrobe is a representation of who you are and how you present yourself – I'm not a material person – I am drawn to fashion because I love color and being creative – at the end of the day what we wear should not define us – so try to knock people down with clashing outfits and double plaids.  You want your inner person to stand out.