Continuing our spring colors theme I am going to focus a bit on men's spring fashion.  Working in a men's store I find my clients are of three camps – they love clothes and dressing well – this camp takes risks and is open to new fashion ideas; camp two cares about how they look but are fairly conservative when it comes to style; camp 3 – this is the guy who absolutely could not care less what he wears as long as it is comfortable.
Inspired by some pieces in my store – I have pulled together some easy ideas on how to incorporate color into a wardrobe so it stands out, without sticking out.
With men's fashion start with simplicity.  You can build color around one core neutral piece:
Example: A pair of khaki shorts goes a long way – khaki is a practical neutral color that pairs well with most every color and style – it can be dressed up or down.  Where a khaki short with a leather belt and button down gingham woven and a pair of Sperry's for a dressed up casual summer look; for a day at the beach surf side look, a pair of khakis is ideal with a Tommy Bahama polo or tee-shirt and pair of flip flops.
Tommy Bahama carries a great pair of silk pants and also several linen pant styles that can be dressed up for an evening cocktail party or worn bumming around the beach – Tommy Bahama emphasizes comfort and has a modern edge on classic island style.  I think their navy silk blend pants and shorts are a perfect core piece you can wear with a loose linen shirt or a button down and blazer.
Lesson one: Simplicity – Start Simple and create your 'trifecta' around neutral colors.
Lesson two: With Color start small to make a big impression.
Color is incorporated into the popular gingham, plaids and other designs popular in department stores and beyond.  So usually it is not hard to find a shirt with a lot of color and design.  Often times the trick is how not to take a rich colorful shirt and overload the palette.  On the flip side you want to pair neutrals with a strong color and layer around subtle colors.
An example of this is to look for a unique stitch work in a pair of shorts or a faint color in a shirt and build on it.  For instance Tommy Bahama has a Dockside Blue Del Chino short with tiny orange stitch work and an orange marlin – pull that color with an orange tee shirt or add an orange stripe in belt.  You can make one pair of khaki's work by figuring out numerous shirts and color schemes you can build around the neutral color.
I am going a little bold in these photos with styles from Bonobos, Perry Ellis and Tommy Bahama – you can tone things down…nothing is wrong with a pair of khakis and a nice white polo – but maybe look for a polo with some detail work then grab a canvas belt that picks up that color.  If a you have a white woven then find a bright tie and coordinate tie and belt to bring a simple outfit together.
Notice how this linen blend Perry Ellis shirt can turn into three unique looks by pairing varying short styles.  Yes you can stick with a khaki or cream, but the pale yellow Bonobos shorts have a little character and bring out the yellow stripe in the shirt – it is not too bold, but adds a burst of color.  I also think the splash blue looks great with the grey, yellow, white tones of this shirt.  CORAL is a go to color for me in summer because it looks fabulous with khakis, jeans, and a variety of chino styles.
The same shorts can be dressed up with a vibrant woven…the yellow is a bright – in your face spring ensemble, whereas the blue picks up on the blues in the woven – without being too bold.  I like this Bonobos grey stripe with the coral shorts seen with the Perry Ellis shirt.  Layering is easy and effective…for instance this gingham woven, could be paired with a white undershirt, left open with the shorts for a more relaxed look, or you could keep it straight button up for a dressier look…Love the rich tones of Bonobos shirts.
Tommy Bahama is one of my go-to brands in fashion consulting in our store because of their comfort, style and ability to have a few core pieces you can mix and match and dress up or down.  I use the D U or D D expression a lot because it is a vital part of recognizing the purpose of the piece in the wardrobe.  Tommy Bahama's pima cotton pocket tees are super soft and the bright colors can be used to add a pop to Khakis or paired with a button down linen or woven…
The shorts on the right are actually synthetic quick dry with an elastic waist but they still are dressy enough for an after golf game dinner if paired with a polo (the square check below is ideal for dressing up an outfit without compromising color)
This floral print is one of my favorites…where underneath a linen jacket with a pair of slacks and it is a cooler than vice look, or pair with the blue shorts above and flip flops for uptown beach look
This plaid is one of my favorites in Tommy Bahama – it looks great with Carolina blue khaki shorts and a canvas belt.  You can layer with the mint green (tee) underneath the linen with khakis or jeans – lots of diversity.
One look that is quintessential timeless spring is a line seersucker suit and also Linen Blazer.  Linen is messy but it is so perfect for southern spring weather – and you can pull it off in other climes too (well except for Montana – we still need our weather proof jackets for a few more months – :))
Perry Ellis has a great linen blazer out now – that has wick meshing.
I personally like Tommy Bahama's linen for quality and lasting style.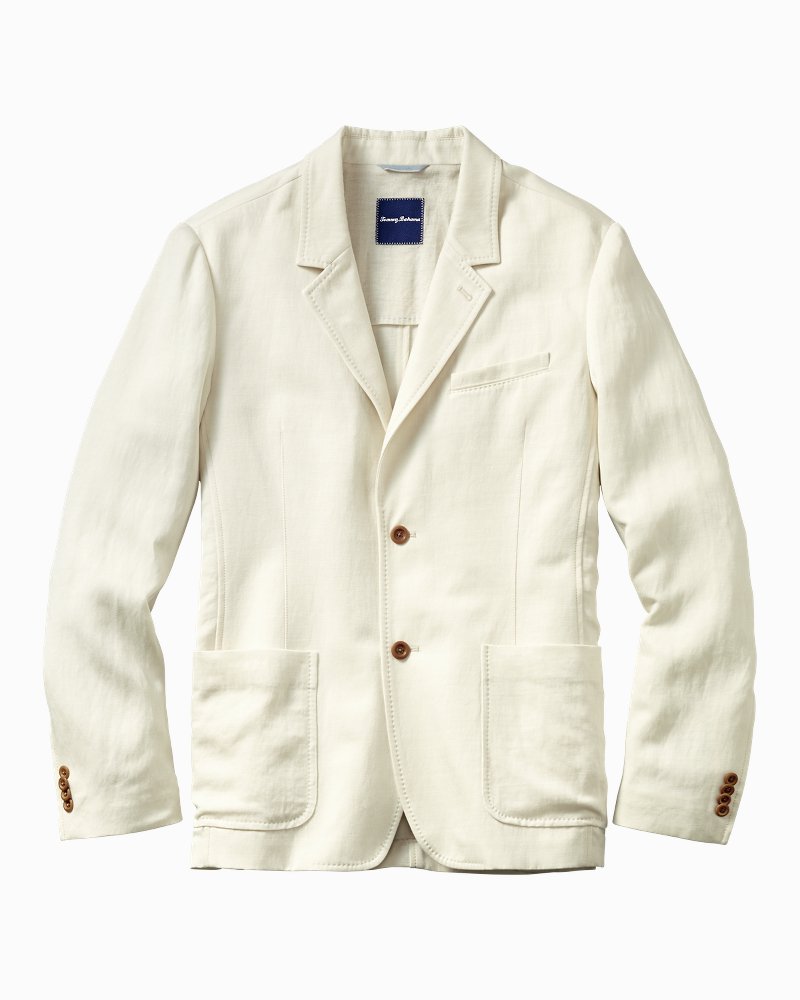 This La Jolla Blazer also comes in a navy – and matching pants – it looks so fresh with a floral linen or keep it simple with light turquoise linen shirt…the possibilities are endless…so don't be afraid to brainstorm.
Don't be afraid to take risks – just make sure the risks are worth the reward.  If your intuition says this outfit clashes, trust your gut and if you are colorblind – trust those around you.  Remember mixing color with simplicity is the backbone of great spring apparel.
I hope these tips have been helpful – there is a world of color out there waiting for you to explore.